SUNRISE for our lost children

Wed Dec 28 2005



In 1995, at the age of 50, I was at a crossroads in my life. Since 1976 I'd worked as a sales representative selling everything from food and computers to sound supplies and hardware.

But the better jobs were now being given to younger reps and I was depressed.

I was at home one day when my friend Linda, a photographer, came over. I told her about my woes.

"Sandy, what do you really want to be doing?" she asked.

"Honestly, I'd like nothing better than to photograph sunrises and sunsets," I told her simply. They were so beautiful and peaceful.

"Then do it," she smiled.

I'd always loved taking photos. In 1962, at age 15, I was given my grandmother's old camera and I was hooked.

As the years passed, I'd married and had children – a boy, BJ, and a little girl, April Fiona – and I'd photographed their every move. When I lost April at just 17 months after open-hearted surgery, her photos were all I had left.

By 1976 my marriage was over, so I'd packed up and moved to Brisbane with BJ and my second son, Andrew. There, I'd met and married, Brian, 39.

Over the years, my love for photography fell away. Now following Linda's suggestion, it was calling me back again.

Linda lent me her camera and I didn't waste a moment. While still working as a sales representative, I tried to shoot the sunrise every day.

Rainy dawns were a real challenge. I'd want to get up but the temptation to pull the bedcovers up and go back to sleep was sometimes too strong.

For the next few years, I photographed beautiful sunrises and spectacular sunsets over Brisbane.

Then, just before 2001, I realised I had to stop mucking about. "This has become a very expensive hobby," I said to Brian.

Then, I had an idea. I'll turn it into a business, I thought.

My plan was to sell framed prints of the sunrise and sunset on any given day.

This would provide a special memento of a particular day, such as a birth of a child or a wedding.

So on January 1, 2001, I made a resolution. Rain, hail or shine, I would force myself out of bed in time to drive to a good vantage point to capture the sunrise. And every evening, no matter what else I was doing, I stopped to photograph the sunset. Once, we were at a friend's house and it was pouring rain. I made a run to a neighbour's house that was on stilts and shot the sunset beneath it! I'd check the times of the sunrises and sunsets in the papers and on the news, to make sure I didn't miss one.

I photographed all over the place, but sometimes people would order a print in advance, like the sunrise on their wedding day. I'd travel to the spot where they were to be married to get the shot.

But while many used my prints for celebrations, others needed them to help them cope. A lady called to ask for a photo of the sunrise and sunset of the day her baby was stillborn.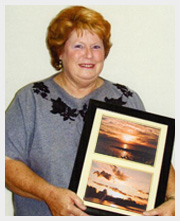 "Are you okay?" I asked after I had driven to her home to deliver the framed print to her. I could tell she wanted to cry.
"Come here," I whispered and I held her as we both cried for our lost children.
Then in October, 2005, I picked up my favourite mag, That's Life! And read about 16-year-old Kahly Thompson, who died when her boyfriend's car crashed into a tree. I was moved to tears.
I read that Kahly's mum, Deborah, had found a list of things Kahly had wanted to do in her lifetime, and one of them was to photograph a sunrise and a sunset.
I know Deborah's pain, I thought as a looked through my photos for those taken on the date of Kahly's passing.
If Kahly couldn't carry out this wish, I wanted to do it on her behalf for Deborah. It would be my gift, from one grieving mother to another.
I packaged the framed prints up and sent them to a journalist at That's Life!, who promised to pass them on.
Today I have photographed close to 2000 sunrises and sunsets and still love what I do. I'm glad my passion is helping people celebrate, remember or grieve.
Each sunrise to sunset is different and unique, just like the people they represent.

Article By:
Joanne Atkinson, Kerrie Simon-Costa, Melanie Mahoney
Thats Life! Magazine